Top 6 Reasons ERP is Important for your Coir Business

Top 6 Reasons ERP is Important for your Coir Business
Growing coir businesses across the world are using ERP software to optimize their business functions. It is no wonder that the global ERP software market is expected to be worth $97 billion by the year 2024. Large coir-based businesses are realizing the importance of software in their operations.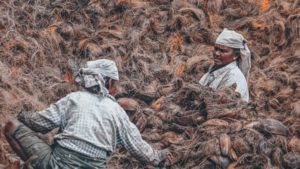 They are gaining from customized Coir Software Solutions and catapulting the revenue, profit, and growth of organizations through efficient management information tools. At the same time, SMEs are failing to gain benefit. Much of this is due to the lack of clarity about the benefits that the business can reap from Coir ERP software. We have identified the top 6 reasons ERP is important for your coir business:
Single Customized Tool to Manage Coir Business Process
The utmost purpose of using ERP is to be able to track all the business functions using a single software tool. Coir-based organizations can gain by customized coir ERP software that can manage their business functions including vendor & procurement management, flexible manufacturing (inhouse & outsourced), quotation to invoice & credit notes management, real-time inventory management, banking & accounts, flexible depreciation of assets, comprehensive project financials, and more. ERP systems are highly integrated. As a result, it improves the coordination across different departments. For example, if you get a purchase request from a customer it will generate a sales order which will be intimated to the inventory department to check stock order levels. If needed the accounts and purchases departments will also be intimated to replenish the stock for the order.
Improves Coir Business Productivity
ERP customized for the coir industry can improve the business productivity of your coir business. It can help with custom processes & reports specific to the industry. Employees can download such reports with ease. They can save time on creating, downloading, and uploading specific reports. It can improve their productivity significantly. The employees can also send quotations, invoices, reports, etc. as an attachment to the email with a single click. ERP implementation can reduce time consumed towards such mundane tasks while improving business productivity through day-to-day operations. Employees can utilize this time to improve and optimize operational activities. It can also help the coir business owners reduce their operational expenses.
RELATED ARTICLES:
Enhances Operational Efficiency
Coir businesses run a complex range of labor-intensive and outsourced activities. Understanding & streamlining these processes can help cut down on inefficient processes. Coir organizations can gain the best from software implementation as the transition and expectations will be already charted through the coir ERP. Arenas, where ERP implementation can impact, are automated data entry, optimized inventory cycles, project-centric financials, insightful reporting for stakeholders to name a few.
Provides Competitive Advantage in Coir Industry
Most companies in the coir industry use off-shelf software. Such software is created for the mass market. So, you will need to adjust your business process & flow to suit the capacity of the software. Also, your competitor will likely invest in the same system depriving you of any competitive advantage. With ERP software coir companies can gain through its innovative functionality and the ability of vendors to customize the software according to your process flow. It will enable your organization with business process reengineering enhancing the organization to gain a competitive advantage in the coir industry.
Better Regulatory Compliance for Coir Industry
With newer regulatory compliances in place, it is important to audit the way business operations were conducted so far. Newer processes must be designed by including regulatory compliances. Ensure that your auditors are involved when you design the business process. Zero down on ERP software that includes regulatory compliances. However, having a coir ERP in place alone is not enough to ensure compliance. Make sure your employees and stakeholders are prepared for the change management with the new system in place so that the compliance can be facilitated with ease.
Reduced Cost
Investing in ERP is a long-term agenda and often involves huge costs. It is also one of the main reasons SMEs refrain from implementing one-stop software. However, emerging trends bring in different affordable options for the coir-based businesses. These options range from cloud-based SaaS (Software as a Service) to open-source solutions, etc. The organizations can now avail themselves of benefits through these affordable systems. A cloud-based solution not only reduces the hefty one-time cost but also reduces the cost of training, maintaining servers & IT staff.
Conclusion
Most coir-based businesses opt for coir ERP software to address the challenges they face with the business growth. Sometimes, the purpose is to replace ineffective technology or process. Whatever the challenges are, remember to these top 6 reasons ERP is important for your coir business.
ERP consultants at Turqosoft can help your business define your coir business processes & KPIs. Get advice on how you can leverage technology for the growth of your Coir business. Connect with us through email info@turqosoft.com or call us on +91 9841205845. Also, you can follow us on LinkedIn, Facebook, Twitter, or Instagram for interesting updates.
PC: Photo by Sina Saadatmand; Rajesh Ram on Unsplash.