Top 10 Myths about Software as a Service (SaaS)

Top 10 Myths about Software as a Service (SaaS)
Software as a service is one of the most misunderstood concepts. Irrespective of its growing demand, the key decision-makers tend to have nurtured non-realistic ideas about it. Many myths prevent them from availing of software as a service. A large part of the credit for which goes to on-premises software vendors. They spread such misconceptions due to their limited knowledge about cloud technology.
So, we thought why not discuss the most common SaaS myths – and Yes, we have debunked them, so that you can make smarter business decisions.
SaaS Myth 1 – SaaS is not here to Stay
Most decision-makers think that SaaS is new and yet to prove itself. It is often compared to the failed version of ASP (Application Service Provider) which became popular during the 90s. Some people consider both the concept to be the same. Whereas the reality is different. SaaS and ASP differ in concept, ownership, and cost. ASP model failed as the infrastructure supporting it hadn't matured then. Whereas the SaaS industry has a highly mature infrastructure. Everybody uses it in some form. Be it a web service (like a travel portal) or apps (like your food ordering app), they have become a part of our convenience. At this stage, it is naïve to say that SaaS is new and would not stay. It has been a game-changer due to the convenience it offers to both enterprises and customers.
SaaS Myth 2 – SaaS is not meant for Enterprise
There is a common belief surrounding SaaS that it is suitable only for small businesses. Though SaaS is an economic option for small businesses, it doesn't limit to small business alone. Most large organizations have identified the benefits of moving to SaaS. The flexibility and innovation offered by the cloud have made it readily accepted. Many large entities find SaaS first approach convenient as they move from the legacy system. It helps them evaluate the suitability of cloud-based solutions with limited risk.
SaaS Myth 3 – SaaS is not Secure
If SaaS solutions were not secure, they would have created havoc in the business community by compromising confidential client data. Yet, like on-premises software, cloud solutions also don't guarantee 100% security. Your SaaS vendor may invest in securing their software on the cloud. But secure usage of the software is the responsibility of the user – like you do with on-premises software. The best means to ensure software security is to have a corporate technology policy. It will prevent misuse of your enterprise software – read as on-premises or cloud.
SaaS Myth 4 – Enterprises are abandoning SaaS
Most businesses are moving to cloud-based solutions due to the flexibility it offers. SaaS has now become synonymous with software restricting the significance of an on-premises system. Even if users face concerns over SaaS, they are much likely to fix it rather than abandoning it.
SaaS Myth 5 – SaaS is Complex to Use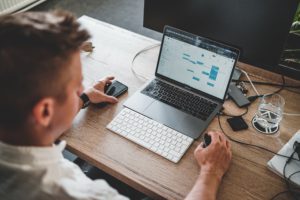 Many decision-makers raise concerns over the complexity of using SaaS solutions. SaaS solutions are well known for the simplicity of their usage. Different industries and sectors are using SaaS solutions. It becomes particularly important for SaaS vendors to simplify the usage of the software. Complexity is mainly felt by users who are inexperienced in adopting web-based solutions. Also, most SaaS vendors offer a trial version. You can analyze those free versions to check the software for user-friendliness.
SaaS Myth 6 – Enterprises move to SaaS only because it is Cheap
It is a common myth that enterprises move to SaaS only to save money. This may hold true but not always. It is not just about the investment cost on software that makes SaaS lucrative. The agility offered by cloud solutions makes them attractive for enterprises.
SaaS Myth 7 – SaaS reduces Employee Competence
Decision-makers often get confused about SaaS solutions. They think it can reduce employee competence & productivity. Instead, the agility of SaaS helps improve employee productivity and competence. With SaaS, your employees don't need access to their office desks for productivity. The real-time connectivity offered by SaaS solutions can help them stay connected. Whether they are at home or traveling, they can support business from any corner of the world. They can also respond to client requests faster. Altogether, SaaS helps your business deliver efficiency faster through improved employee competence.
SaaS Myth 8 – SaaS cannot offer Sophisticated Software Solutions
SaaS solutions are not softer versions of complex software applications. They are flexible and simpler to use. SaaS solutions don't compromise on the flow of the business process. Over years there has been a consistent growth in conglomerates moving to SaaS. Organizations like the American Red Cross, Netflix, and Rovio T run on SaaS solutions. General Electric manages its complex global supply chain using Aravo SIM (Supplier Information Management) which is a SaaS.
SaaS Myth 9 – You don't own your Data with SaaS
Yet another myth about SaaS is that you don't get control of your business data. Business owners can access their cloud data anytime. Most SaaS solutions provide the reporting option. Business owners can use such comprehensive data whenever they want. Also, SaaS agreements mention that the business data rests with the client.
SaaS Myth 10 – SaaS is not Reliable
Most SaaS providers guaranteed uptime of 99.9% ensuring seamless performance. Automated disaster recoveries ensure that your business process remains operational all the time. There have been few reports on crash and security breaches of on-premises software. But major issues haven't been reported so far. Also, among the reported incidents the recovery time has remained much less in comparison to on-premises enterprise software.
Globally, decision-makers are adopting SaaS solutions to grow their business efficiency. Collaborating with SaaS solutions is helping them channelize their processes. It is helping them build a long-lasting relationship with the customers.
Don't let SaaS myths hold you back from leveraging technology.
Gain an advantage from Turqosoft's SaaS Enterprise Solutions. Feel free to ring us for a quick chat at+91 6282284349 or email info@turqosoft.com. Alternatively, you can connect with us on LinkedIn, Facebook, Twitter, or Instagram. Or just leave a comment below.
PC: Unsplash