Top 5 Strategies for Improved Employee Retention | HRMS Software | HRMS App

As important as finding a suitable employee, organizations must keep the absolute focus on retaining their best talents. It is well-known fact that employee retention improves with the happiness level of employees. But getting that done at the workplace is a bit complex. Moreover, a single strategy doesn't seem to fit all employees. However, analyzing and implementing strategies through HRMS Software can improve positivity at the workplace. It can go a long way to improve employee retention rates. Here, we have shortlisted the top five strategies for improved employee retention | HRMS Software | HRMS App:
RELATED TOPIC: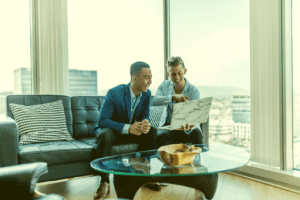 Top Five Strategies for Improved Employee Retention | HRMS Software | HRMS App
Learning & Development
Invest in your employees' learning and development consistently. Prioritize their growth by encouraging them to enhance their skills. Pay for them to attend conferences and programs that can add value to their skills. Upskilling the existing employees can lead to faster and better productivity compared to hiring fresh talent. Remember that redundant employees can become your organization's biggest limitation. Whereas updated employees can be your competitive advantage due to the updated industrial knowledge they possess. HRMS Software can come as a handy tool to identify skill gaps of employees. It can be facilitated through offline/ online training programs, jobs-specific training, e-learning, micro-learning, or learning from external experts.  
Open Communication
Open communication reflects the organization's open work culture. It is an essential strategy that can be used to retain your existing employees. Open channels of communication make the employees feel that they can approach their superiors directly with their ideas and concerns to get direct and open feedback from them. It eliminates the distortion of communication, ensuring the employees that their ideas have been conveyed clearly. Human Resource Management Software on Cloud equipped with open communication channels can enable the employee opinions to feel cared for and valued.
Great Compensation
Analyze the performance of each employee in an unbiased manner by using intelligent HRMS Solutions. Use such data to reward the deserving candidates with great compensation. Compensation is the absolute necessity of any employee. It is one of the main reasons why organizations with great pay packages attract the finest of talents. Compensation is not limited to salary alone. Rather, it includes the cost of paid vacations, health packages, and other perks. They can not only attract the best talents to your organization but also help retain existing talents through improved satisfaction. You can also include employee stock options and financial rewards for excellent performances. It can go a long way in boosting employee morale and retaining them in long run.
Offer Flexibility                                       
Some organizations offer flexible working hours and workdays to their employees. This allows them to reduce commute time and gain more work-life balance. Moreover, it will empower them to focus and schedule their work better. You can also redesign people management through the Hybrid Workspace Model which allows your employees access to the best of both workplace and remote office. Understanding and providing for their emotional needs will attract employee loyalty and retention in the long run. Cloud-based HRMS Mobile Application can help you track the productivity of your employee from any remote location.
Leverage Technology
While fostering a transparent corporate culture is important, it is equally important to empower your employees with HRMS App. Such powerful tools can seek feedback from the employees. It can also provide a platform for the managers to share timely career feedback with the employees. This can reduce time spent on unfruitful efforts. It can also steer the whole team towards the organizational objective.
Conclusion
Use these top five strategies for improved employee retention | HRMS Software | HRMS App. Keep revisiting your employee retention strategies from time to time so newer effective strategies are bought to action and outdated strategies can be done away with.
Turqosoft helps businesses improve their Key Performance Indicators. Get advice on how you can leverage technology for business growth. Connect with us through email info@turqosoft.com or call us on +91 6282284349. Also, you can follow us on LinkedIn, Facebook, Twitter, or Instagram for interesting updates.