ERP Memes – Because Work should be fun too ;) 

The goal is not to simply work hard, play hard. The goal is to make our work and play indistinguishable ~ Simon Sinek
We at Turqosoft aim to make it achievable for our Clients & their Employees through our powerful cloud-based berryERP software. Be it working from an office, multiple locations, or remote working, our software solutions – berryERP, and tealHRMS aim to make working seamlessly for you because your success is our excellence. 
Software implementation is a complex task for both the vendor and the implementing organization. It involves huge efforts from both parties – be it time, cost, training, testing, implementation, and support. Amidst the tight implementation schedules, we would like to put across certain aspects of ERP implementation through a lighter topic – ERP memes! 
ERP Memes – Because Work should be fun too 😉 
If you have already gone through the Top 10 Interesting HR memes we posted last year then you know how much we love memes. So what are you waiting for? Let's dive into some ERP memes – because work should be fun too! 
Businesses with On-premises ERP vs. Cloud ERP during Covid-19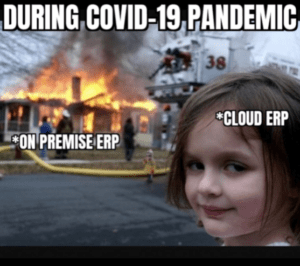 See that smiling face of organizations that chose to go with the implementation of ERP on the Cloud. During the Covid-19 pandemic when employees and business leaders were trying to figure out how to manage organizational processes, the ones with cloud solutions were already sorted out – because they can work from anywhere.  
I don't always chill but when I do I make sure my paperwork is automated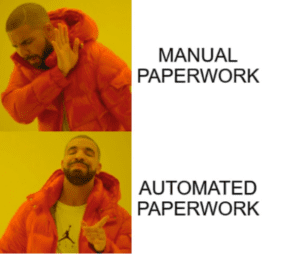 Being a business owner can be extremely demanding. It becomes worse if the paperwork about operational activities is handled manually or on documents. Things become much more comforting and safe if all the paperwork is automated by the ERP process. This way you can ensure all the details are recorded and stored safely.  
Organizations Managing Processes on Excel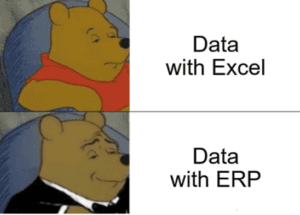 Stop searching for those records among the heaps of excel sheets. Using ERP for each operational process makes sure your departments are well-coordinated, have transparency, and are fully integrated. This means you can pull real-time business information of any department from the system. Automation also reduces the chances of errors. 
After all, it is Worth the Effort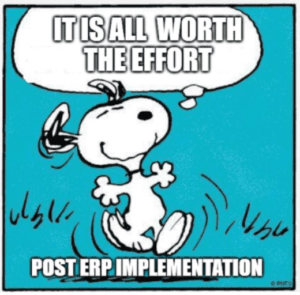 Yes, both implementing organizations and vendors have to work hard during the ERP implementation phase. But once done, it is all worth the effort. Nothing great has ever been achieved simply. To take the organization to the next level you should grind because that grind is going to make things better and more profitable for tomorrow.  
ERP Support Personnel when you Call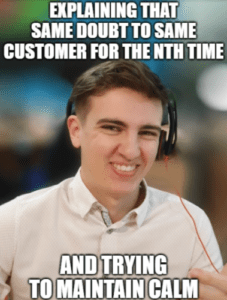 Often ERP support personnel get calls about the same doubt again and again by the same customer. Bring it on! We understand that it is new for you. Moreover, ERP is vast software and it is impossible to remember everything in one shot. Our support personnel are well trained to explain it again and again till you are comfortable.  
Looking for a smooth ERP implementation? Reach the ERP consultants at Turqosoft who can help redefine your business processes & KPIs. Connect with us through email info@turqosoft.com or call us on +91 9841205845. Also, you can follow us on LinkedIn, Facebook, Twitter, or Instagram for a regular dose of interesting updates.
Memes made using Meme Generator by our creative & cool staff!