What is Modern ERP?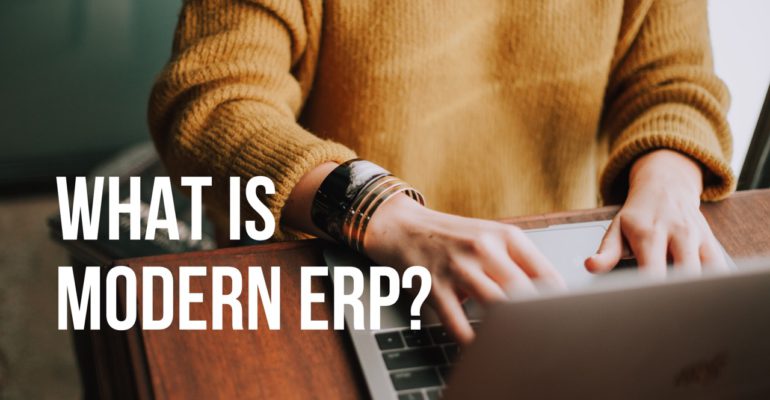 If you are among those businesses who are not able to manage operations smoothly in the changed business scenario due to the handicap faced by traditional ERP systems, then it is high time to consider shifting into a modern ERP solution.
Take a look at how ERP modernisation has helped businesses not only survive but thrive in the new normal era:
What is Modern ERP (Enterprise Resource Planning)?
From its history dating back to the 1960s, ERP has evolved and continues to do so by adapting to changes in business scenarios for efficient and smoother functioning of the business.
ERP means a software solution that can integrate diverse business functions including supply chain, customers, financials, manufacturing, and day-to-day business operations.
A modern ERP system is different from a traditional one with below-mentioned characteristics:
Location
The new generation ERP systems are cloud-based which means there are no restrictions to where you can operate from. Your vendor can host the system on any cloud platform provided by third-party service providers. This enables you and your employees to access their job role-based data from remote as well as office locations.
Cost
With very little investment made in the deployment and maintenance of cloud servers, the ongoing cost of modern ERP is very affordable. Moreover, being on the cloud most vendors offer affordable subscription plans, especially for SMEs.
Implementation
Unlike in traditional ERP, the implementation of modern ERP is a simplified process that can take as little as 3-6 months to implement and get going.
Scalability
Whether you are a large business or just starting, modern ERP systems provide the option to adapt to the size of your business. You can choose from among the vendor plans that suit the current size of your business and scale as the business grows.
Maintenance
Modern ERP systems are easy to maintain as your vendor will manage software maintenance. You will not need to manage an in-house software team to manage the system.
Conclusion
With multiple options of modern ERP systems available in the market, you must choose a system that fits your business needs. Apart from being a financial decision, selecting an ERP system is also a very crucial operational decision that can impact various aspects of your business.
To know more, connect with us through email info@turqosoft.com or call us on +91 9841205845.