ERPNext Kochi: Empowering Businesses with Turqosoft Solutions' Consulting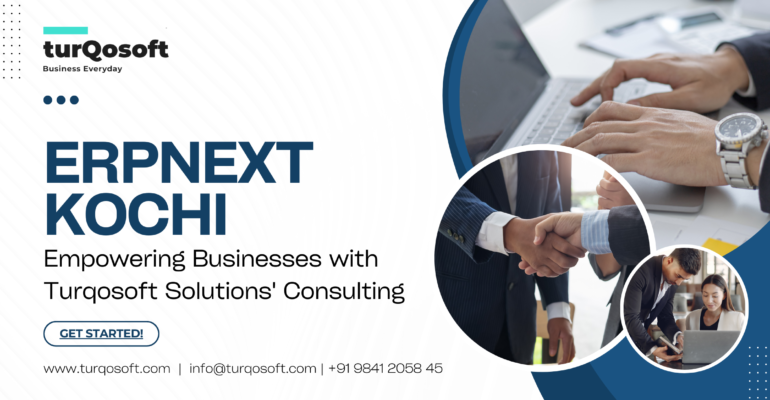 ERPNext Kochi: Empowering Businesses with Turqosoft Solutions' Consulting
In the bustling city of Kochi, businesses strive to thrive in an ever-evolving market, creating a demand for streamlined enterprise management solutions. Turqosoft Solutions emerges as among the leading ERPNext consulting provider in Kochi, offering businesses comprehensive features and cost-effective solutions.
ERPNext Kochi
Through Turqosoft's expert guidance, businesses can achieve operational excellence and drive growth with ERPNext, an open-source Enterprise Resource Planning (ERP) solution.
Understanding ERPNext
ERPNext, a versatile and integrated software, empowers businesses by efficiently managing core processes. From financial accounting and inventory management to customer relationship management, project management, HR, and payroll, ERPNext encompasses a wide range of functions under a single platform. Its modular architecture allows businesses of all sizes to customize the system according to their unique needs, making it a powerful tool for enhancing overall efficiency.
The Turqosoft Approach
Turqosoft Solutions takes a customer-centric approach to ERPNext consulting. By understanding each client's specific requirements and challenges, they offer tailored solutions to ensure a seamless implementation. Through a meticulous analysis of the client's business processes, Turqosoft recommends suitable ERPNext modules that align with their objectives, optimizing the system for maximum effectiveness.
ERPNext Implementation
The implementation phase is critical for a successful ERP adoption. Turqosoft Solutions follows a structured approach, beginning with careful planning, data migration, and customization. Their experienced consultants guide clients throughout the implementation process, minimizing disruptions and facilitating a smooth transition to the new system. Comprehensive training is provided to employees to maximize productivity and utilization.
Benefits of ERPNext for Businesses in Kochi
Following are some of the key benefits of ERPNext for businesses in Kochi:
Enhanced Efficiency: ERPNext streamlines and automates various business processes, reducing manual work and eliminating redundancy. This boost in efficiency translates to reduced operational costs and improved overall productivity.
Data Centralization: ERPNext stores critical data from different departments in a centralized database, enabling real-time access to information for data-driven decision-making.
Improved Collaboration: With ERPNext, teams can communicate and collaborate efficiently through a unified platform, fostering a cohesive work environment and enhancing organizational efficiency.
Scalability: ERPNext is highly scalable, accommodating business growth and expansion. As companies in Kochi aim to expand their operations, ERPNext seamlessly adapts to changing needs.
Regulatory Compliance: Kochi businesses must comply with various industry regulations. ERPNext aids in adherence by offering customizable reporting and compliance features.
Conclusion
In conclusion, Turqosoft Solutions stands as a dependable partner for businesses in Kochi seeking efficient ERPNext consulting services. Our expertise in ERPNext implementation and commitment to understanding clients' unique needs sets us apart. With Turqosoft Solutions' guidance, businesses in Kochi can streamline their operations, enhance productivity, and achieve sustainable growth in a competitive market. Embrace the future of enterprise management with confidence and optimize your business's potential using ERPNext Kochi with Turqosoft Solutions.
If you're looking for expert assistance to implement ERPNext and unlock its full potential for your organization, we're here to help. Drop us a message, and our experienced team will be delighted to guide you. You can reach us via email atinfo@turqosoft.com or give us a call at +91 9841205845.
Stay connected with us on LinkedIn, Facebook, Twitter, or Instagram for exciting updates on ERPNext and other relevant topics. Enter sales invoices in ERPNext with confidence and watch your business thrive with the support of this comprehensive ERP solution!