Inventory Management Optimization with ERPNext

Inventory Management Optimization with ERPNext
Effective inventory management stands as a cornerstone for the success of any business. It entails a delicate balance of overseeing the entire lifecycle of products, from their initial purchase to efficient storage and timely distribution. 
At its core, it's about ensuring that products are readily available to meet customer demands while simultaneously minimizing the costs associated with carrying excess stock. In essence, it's a strategic dance of maintaining just the right amount of inventory to keep operations running smoothly and efficiently. 
This delicate equilibrium not only enhances customer satisfaction by preventing stockouts but also optimizes capital allocation by reducing the financial burden of excessive stock. 
Inventory Management with ERPNext
In a world where business competition is fierce, mastering effective inventory management becomes a pivotal factor in sustaining growth and profitability.
In this blog post, we'll explore how ERPNext, a robust inventory management system, can revolutionize your approach to stock management.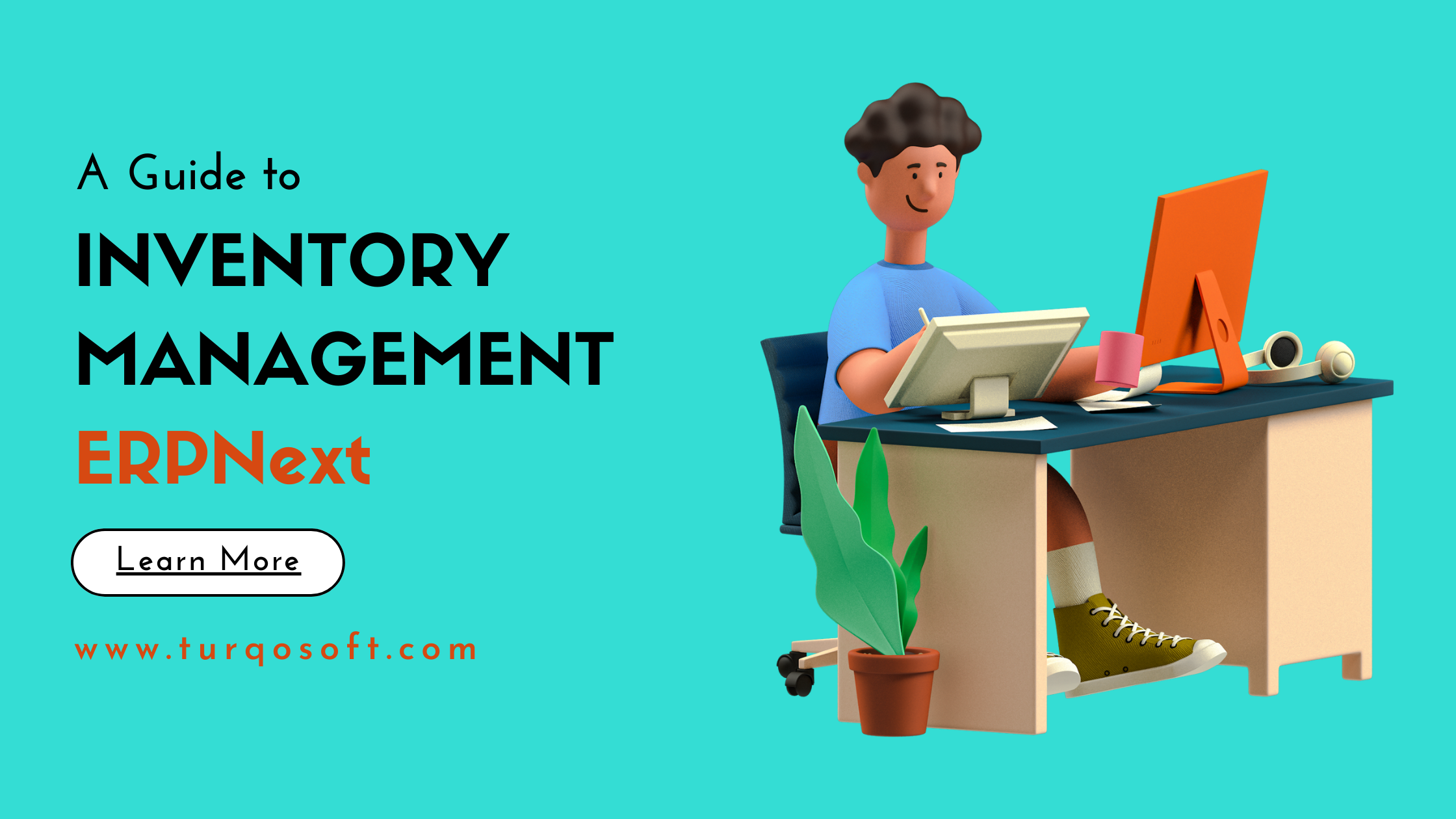 Importance of Effective Inventory Management for Business Success
Inventory represents a significant investment for most businesses. Efficient inventory management ensures capital isn't tied up unnecessarily, products reach customers promptly, and costs are reduced, ultimately boosting profitability.
However, traditional inventory management often relies on manual processes, spreadsheets, and disconnected software systems, leading to inaccuracies, delays, and lost revenue. Due to which such businesses grapple with issues like overstocking, stockouts, inaccurate demand forecasting, and poor visibility into their supply chain.
Understanding ERPNext and its Role in Inventory Management
ERPNext is a powerful open-source inventory management system encompassing various modules, including finance, human resources, sales, and inventory management. 
ERPNext offers several advantages for inventory management, including real-time inventory tracking, centralized data storage, automation, and integration capabilities. Its user-friendly interface makes it accessible to businesses of all sizes.
Setting up ERPNext for Inventory Management
Setting up ERPNext for effective inventory management is a strategic step towards streamlining your operations and optimizing resource allocation. 
It begins with configuring the system to accurately reflect your product catalog, categorizing items, and defining units of measurement. You'll establish reorder points to ensure you never run out of crucial stock items, and set up warehouses to track inventory locations efficiently. 
Implementing barcode scanning and batch tracking can further enhance accuracy. Additionally, integrating with suppliers and automating purchase orders simplifies procurement processes. Lastly, harnessing ERPNext's reporting and analytics capabilities provides real-time insights into inventory performance, helping you make informed decisions and maintain optimal stock levels. 
With ERPNext, your inventory management becomes a well-oiled machine, reducing costs, preventing shortages, and enhancing customer satisfaction.
Installation and Configuration of ERPNext
Implementing ERPNext involves installation and configuration, which can be tailored to your specific business needs. 
Creating and Customizing Inventory Modules in ERPNext
ERPNext's modularity allows you to create and customize inventory modules, ensuring they align precisely with your stock management and warehouse management workflows.
Essential Inventory Management Best Practices
To optimize your inventory management with ERPNext, consider the following best practices:
a) Demand Forecasting: The Foundation of Effective Inventory Planning
Accurate demand forecasting is critical for maintaining optimal inventory levels. ERPNext provides the tools to analyze historical data and make informed predictions.
b) Optimizing Inventory Reorder Points and Levels
Set appropriate reorder points and safety stock levels to prevent stockouts and maintain a smooth stock management process.
c) Streamlining Inventory Tracking and Monitoring with Serialization
Serialization enables you to track individual items throughout the supply chain, enhancing traceability and quality control.
d) Efficient Batch Management Techniques for Inventory Control
Batch management helps manage products with specific manufacturing or expiration dates, ensuring accurate inventory control.
e) Utilizing Multi-Warehouse Inventory Management
For businesses with multiple locations, multi-warehouse management in ERPNext optimizes stock distribution and reduces shipping costs.
f) Minimizing Stockouts and Inventory Overstock
Balancing stock levels is crucial. ERPNext helps you avoid stockouts by automating replenishment orders and reducing excess inventory to prevent overstock situations.
Integration and Automation with ERPNext
ERPNext excels at breaking down silos and fostering collaboration. It seamlessly integrates with various software systems, including e-commerce platforms, suppliers, and logistics providers. This integration streamlines the entire supply chain, ensuring a smooth flow of information and materials, from procurement to delivery.
Say goodbye to manual data entry and the risk of errors. ERPNext's robust workflow automation simplifies inventory management tasks. It ensures that routine processes, such as order processing and stock replenishment, are executed efficiently and accurately, freeing up your team to focus on strategic initiatives.
ERPNext's barcode integration takes inventory management to the next level. By incorporating barcodes, tracking becomes a breeze, errors are minimized, and the entire inventory management process accelerates. With this feature, you'll always have a real-time view of your stock, improving overall efficiency.
ERPNext offers powerful reporting and analytics tools that empower you to make informed decisions. From inventory turnover rates to demand forecasting, these tools provide insights that enable you to optimize your inventory and adapt to market changes swiftly. With ERPNext, you're always one step ahead in managing your inventory effectively.
Overcoming Common Challenges in Inventory Management
Though effective inventory management is a cornerstone of successful businesses, it does not come without its challenges. 
Whether you're dealing with stockouts, excess inventory, or inefficient processes, overcoming these obstacles is essential to maintaining a competitive edge. 
This section will explore some common challenges in inventory management and explore strategies to conquer them, ensuring that your inventory becomes an asset rather than a liability.
1. Dealing with Seasonality and Demand Variability
ERPNext's flexibility helps businesses adjust to seasonality and demand fluctuations by allowing dynamic changes to inventory strategies.
2. Managing Expiry Dates and Shelf-Life Control
For businesses dealing with perishable goods, ERPNext aids in managing expiry dates and ensures older stock is used first.
3. Mitigating Risks of Stock Obsolescence and Dead Stock
Inventory analysis tools in ERPNext help identify slow-moving items, allowing you to take action to prevent obsolescence and dead stock.
Advantages of ERPNext for Small and Medium-sized Enterprises (SMEs)
Cost-Effective Solution: ERPNext is an open-source ERP system, which means it often comes with lower initial costs compared to proprietary solutions, making it budget-friendly for SMEs.

Scalability: SMEs can start with the essential modules and scale up as they grow, ensuring they only pay for the features they need at each stage of their development.

Efficiency Improvement: ERPNext streamlines business processes, reducing manual data entry, minimizing errors, and increasing operational efficiency.

Centralized Data: It provides a centralized database, ensuring all business data is in one place, making it easier to access, analyze, and make informed decisions.

Real-time Insights: ERPNext offers robust reporting and analytics tools, providing real-time insights into business performance and helping SMEs make data-driven decisions.

Inventory Management: SMEs can optimize inventory levels, prevent stockouts, and reduce carrying costs with ERPNext's inventory management features.

Cost Control: The financial modules help SMEs maintain control over their finances, manage accounts receivable and payable, and generate accurate financial reports.

Customization: ERPNext is highly customizable, allowing SMEs to tailor the system to their unique requirements without extensive coding.

Remote Access: With cloud-based options, SMEs can access their ERPNext system from anywhere, promoting remote work flexibility.

Supplier and Customer Relations: CRM features help SMEs manage leads, opportunities, and customer interactions, enhancing relationships and fostering growth.

Compliance: ERPNext can help SMEs meet regulatory compliance requirements and maintain financial transparency.

Support and Community: The ERPNext community is active and supportive, offering resources, documentation, and a forum for SMEs to seek help and advice.

Data Security: ERPNext prioritizes data security, ensuring that sensitive business information is protected.

Project Management: SMEs can efficiently plan, execute, and track projects, improving project management and delivery.

Multi-Company Support: For SMEs with multiple entities or divisions, ERPNext's multi-company support simplifies management under one ERP system.

Time-saving: Automation features reduce manual tasks, freeing up SMEs' time to focus on strategic growth initiatives.

Streamlined Communication: ERPNext enhances internal and external communication, ensuring everyone is on the same page.

Mobile Accessibility: Many ERPNext features are accessible via mobile devices, allowing SMEs to manage operations on the go.

Collaboration: The system promotes collaboration among team members, enhancing productivity and project coordination.

Competitive Advantage: By improving efficiency, optimizing processes, and providing real-time data, ERPNext helps SMEs gain a competitive edge in their industries.
Frequently Asked Questions (FAQs)
Summary and Key Takeaways
Undoubtedly, the transformative impact of ERPNext on inventory management cannot be overstated. By implementing this robust ERP system, organizations can usher in a new era of inventory management, stock control, and warehouse operations.
The benefits are far-reaching, encompassing cost reduction, heightened customer satisfaction, and improved profitability. ERPNext enables businesses to adapt to the ever-evolving market dynamics with agility, making it a linchpin in their quest for sustained success.
In essence, ERPNext offers a holistic and comprehensive solution to the intricate challenges of inventory management, stock control, and warehouse operations.
It empowers businesses with the tools they need to optimize their operations, thrive in today's fiercely competitive market, and chart a path towards sustained growth and prosperity. So, seize the opportunity, embrace modern inventory practices, and unlock the full potential of your business with ERPNext – the key to achieving unparalleled efficiency and excellence in inventory management.
Ready to explore the game-changing potential of ERPNext inventory management for your business?
Contact us now for a consultation and discover how ERPNext can propel your operations to new heights.
Don't miss out on the opportunity to streamline processes, boost productivity, and stay ahead in the competitive business landscape.
Alternatively, you can stay connected with us on LinkedIn, YouTube, Facebook, Twitter, Pinterest, or Instagram to get your share of exciting updates on ERPNext and other relevant topics.