Customizing ERPNext: Tailoring Solutions for Unique Business Needs

Customizing ERPNext: Tailoring Solutions for Unique Business Needs
ERPNext is an exceptional tool that offers businesses a comprehensive Enterprise Resource Planning (ERP) solution. Developed by Frappe Technologies, this open-source software provides a range of functionalities to streamline various business processes. While ERPNext comes with a robust default structure, its true potential lies in its high level of customizability.
In this article, we will explore how businesses can tailor ERPNext to meet their unique requirements and enhance their operations for greater efficiency and growth.
ERPNext and Its Utility
Before diving into customization, let's briefly understand the utility of ERPNext.
As a feature-rich ERP software, it assists businesses in managing multiple operations seamlessly. From finance and inventory management to human resources and sales, ERPNext covers a broad spectrum of business needs.
However, certain organizations may have specific processes and workflows that demand further fine-tuning and personalization. This is where the customization tools within ERPNext come into play, empowering users to adapt the software to their precise needs.
Customizing ERPNext  Form
One of the fundamental aspects of ERPNext customization is the ability to tailor the forms or Document Types (DocTypes) to suit specific requirements.
The Customize Form tool allows users to make modifications to the front-end of Form Types or DocTypes.
By doing so, they can insert Custom Fields or modify the properties of existing fields.
To start the customization process, follow these steps:
Home
Access the Home menu within ERPNext.
Customization
Navigate to the Customization menu.
Form Customization
From the dropdown, select Form Customization.
Customise Form
Click on Customize Form.
Upon clicking Customize Form, users will be redirected to a new page where they can specify the Form Type. Fill in the necessary information, and a wide array of customization features will become available.
Users also have the flexibility to:
Change labels to align with their business terminology.
Edit title fields to display the desired titles for each Form Type.
Customize the default print format for better branding.
Add image fields to capture visual data.
Determine the maximum number of attachments that can be added to the DocType.
Identify search fields and sort fields to facilitate efficient data retrieval.
Set the sort order or modify the default email template.
Furthermore, the customization options include enabling features such as hide copy, table features, quick entry, and change tracking.
Users can also track views, allow auto-repeat, permit data imports, and activate preview pop-ups on the screen.
The extensive range of customization options allows users to tailor ERPNext according to their specific preferences.
Customizing ERPNext Field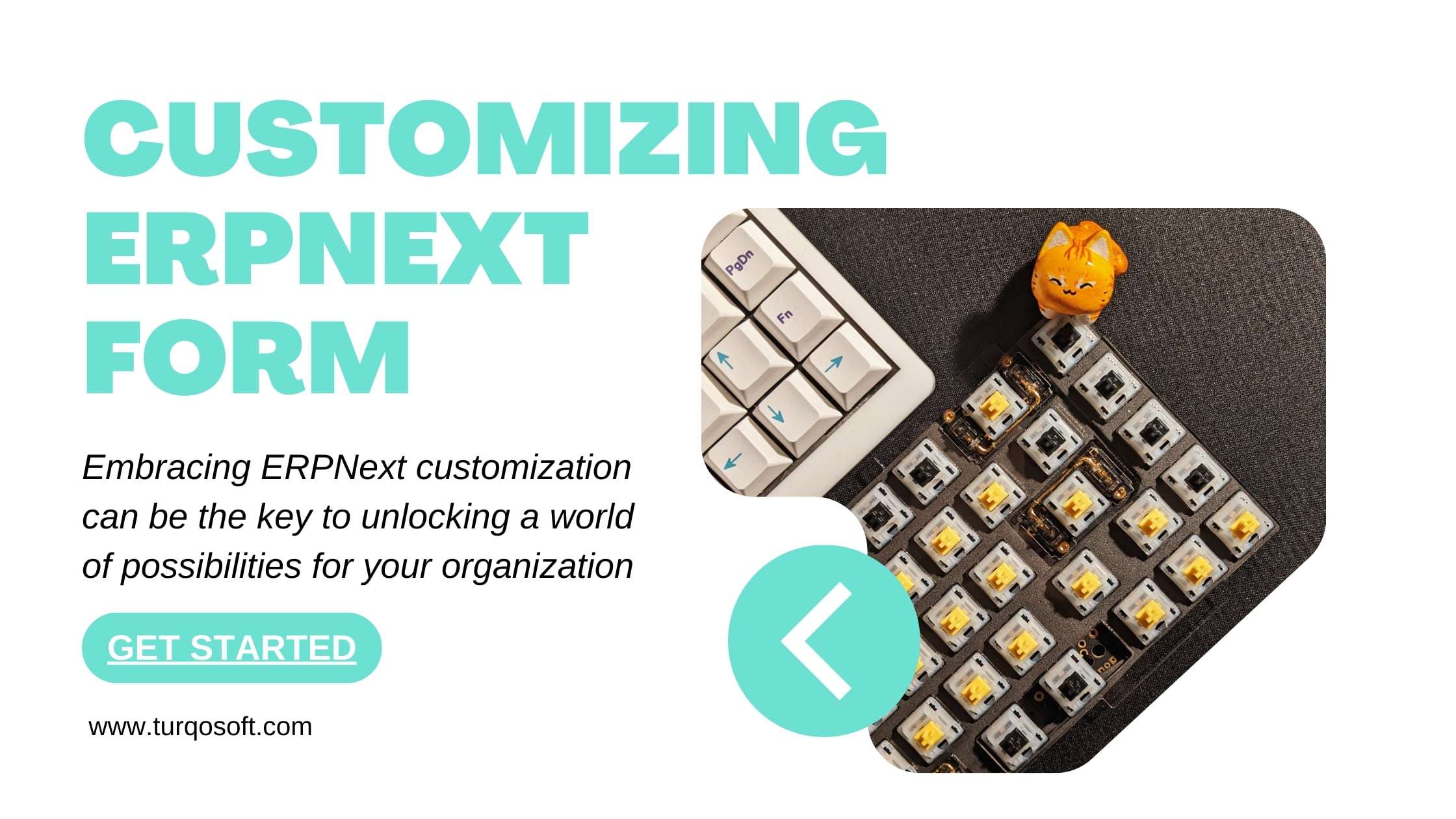 In addition to customizing forms, ERPNext enables users to customize individual fields within the software.
Each form in ERPNext comes with a set of standard fields. However, when a user needs to capture specific information that is not available as a standard field, they can easily insert a custom field that suits their unique environment.
To customize a field within ERPNext, follow these steps:
Menu Options: Navigate to the list of any DocType and access the customization option directly.
New: Click on "New" and select the document where the custom field should be added.
Label and Type: Provide a label for the field and choose the appropriate field type. Users can also select "Custom Field" if necessary.
Additional Properties: Define other field properties, such as options for specific data, fetching form, fetching if empty, default value, and dependencies.
Description and Permissions: Add a field description and set the permission level. Users can also select the field width and manage various properties during this process.
The extensive options available include making the field mandatory, setting read-only privileges, making the field bold for emphasis, hiding it from reports, and enabling the ignore XSS filter option.
Additionally, users can ensure that the field is translatable, offering further flexibility and usability.
Flexibility at Its Finest
With the basics of ERPNext customization at hand, businesses can now tweak settings as much as needed to create a tailored solution that aligns perfectly with their unique requirements.
While the process may seem overwhelming initially, there is a wealth of ERPNext customization experts at Turqosoft, empowering next generation businesses. We can guide you through the entire customization journey, ensuring that you maximize the potential of ERPNext for your business.
Conclusion
ERPNext is a powerful ERP software that provides businesses with a comprehensive suite of tools to optimize and streamline their operations. However, customizing ERPNext is essential to truly unlock its true potential. With the ERPNext Customization Form and Custom Field tools, users can fine-tune ERPNext to match their unique business needs, thereby achieving improved efficiency, growth, and success.
Whether you are a small business or a large enterprise, embracing ERPNext customization can be the key to unlocking a world of possibilities for your organization.
If you're looking for expert assistance to implement and customize ERPNext and unlock its full potential for your organization, we're here to help. Drop us a message, and our experienced team will be delighted to guide you.
You can reach us via email at info@turqosoft.com or give us a call at +91 9841205845.
Or, stay connected with us on LinkedIn, Facebook, Twitter, or Instagram for exciting updates on ERPNext and other relevant topics.
PC: Krishdiphong Prayoonwongkasem and Angga Indratama on Unsplash; Canva.